Main content starts here, tab to start navigating
About
Bianca is a neighborhood restaurant and bar in Chestnut Hill that specializes in wood grilling, wood fire pizza, and a variety of dishes inspired by global flavors and cuisines. Bianca means a clean slate, a virtual white plate primed for delicious expression and ready to transport you to far off places. From classic dishes done with care to the truly unique plates borne from imagination, Bianca presents a luxe dining experience in a relaxed atmosphere that is as comfortable as our own homes.
Introducing SUNDAY JAZZ BRUNCH at Bianca!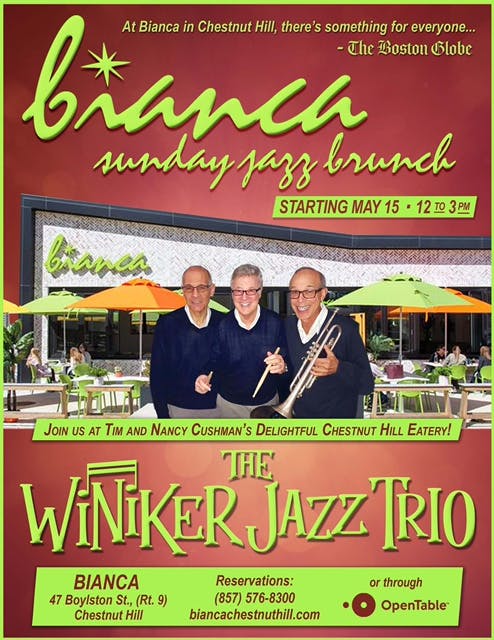 *please note that The Winiker Trio will NOT be playing June 19 as there will be live music on the green at The Street.
Bianca, 2022
We are incredibly happy to be open in Chestnut Hill after COVID-19 put a damper on our original open date of March, 2020. The outpouring of support we've received - from the long time guests and old friends of our other restaurants to the folks of the Chestnut Hill community was overwhelming.
We thank you all.
A note on health and safety:
As always, the safety and comfort of both our staff and our guests is paramount. We will abide by the recommendations and mandates that our government officials provide us, along with implementing our own extra careful procedures. As of March 2022, masks, proof of vaccination and social distancing are not required. (and boy, does it feel great.) Hand sanitizer is available throughout the restaurant, and some of our staff chooses to wear masks at work, which we will support. We remain grateful to you, our guests, for your grace and patience as we continue to evaluate how best to protect all.